3 Reasons Why Your Background Screening Business Needs a Detailed P&L Statement

By: Evan Zatt
Background Screening business owners must analyze and control their bottom line to achieve success.
If you are like many companies, you only have the basics: one Revenue line, one Cost of Goods (COGS) line, Expenses, Net Profits.  Simply put, it's not enough. It's time to add critical details to your P&L and here's why.
I.  YOUR BUSINESS NEEDS TO BE ABLE TO HANDLE CHANGE QUICKLY
Change. Whether in your personal or professional life, the rate of change we experience is speeding up. If life throws you a curveball today is your business ready to handle it? If a quick sale is necessary, how confident are you that an acquiring company would be willing to make you an offer based on the quality of your books? A detailed P&L Statement will show a buyer that your company is well-run and will greatly increase the chances of you selling your business faster at a higher valuation.
II.  YOU WANT TO MAXIMIZE PROFITS
How can you earn the greatest profit for your business if you are not aware of the details? Any idea what your gross margin is on each service you sell for each customer? What are your cash cows? Do you have any loss leaders?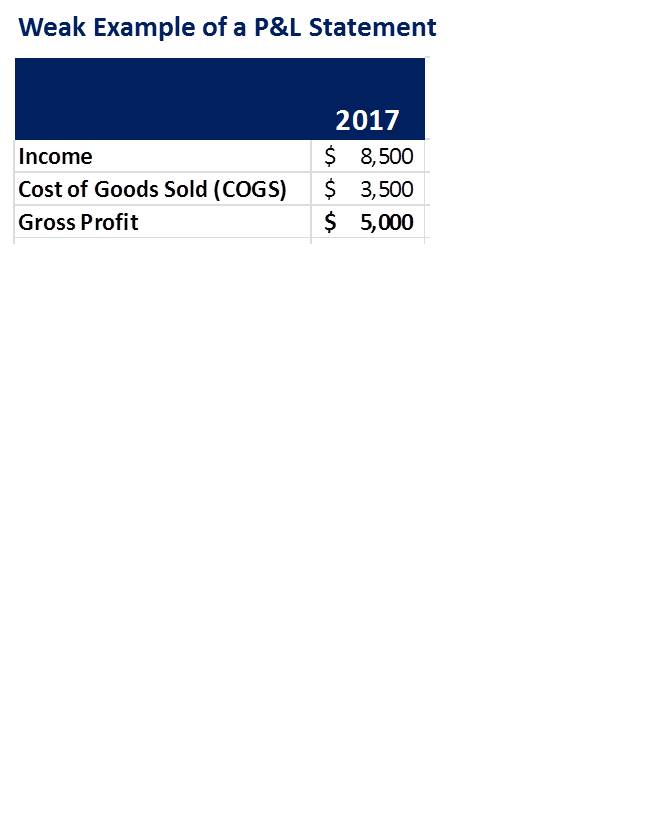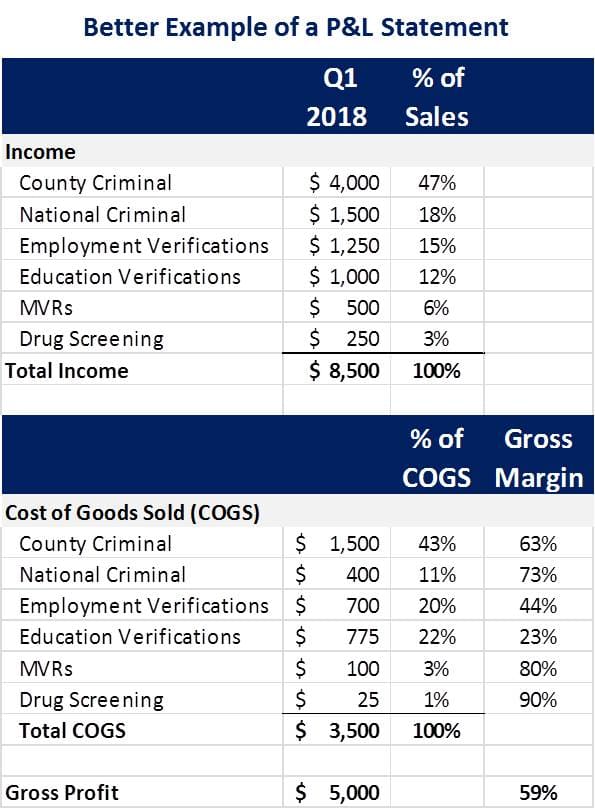 Why is this so important? Not only is it good management practice to constantly compare your Gross Margins month-over-month and year-over-year to see if tweaks are needed, showcasing your Gross Margin to potential buyers proves that you truly understand your business. Having this information at your fingertips will take all the guesstimates out of which services are performing well for you and what needs to be improved. With the detailed example above, do you see the additional value?
III.  MEET YOUR BUSINESS AND LIFE GOALS
There are many ways to achieve success. Hiring only top performers, continuous product improvement, employee development and on and on. One important way to track and achieve your goals is to design and maintain a detailed P&L Statement. At a minimum, update and review this every quarter. This gives you the chance to better plan for the future. Say you want to grow your profit by $100,000 over the next quarter. If you don't know the itemized income and costs that make up this number, how can you begin to achieve and exceed this goal? Details matter!
And, is retirement in your 2-5 year plan? What do you want and need to comfortably walk away from your business? Add detail to your financial reports. Better information can improve your chances of meeting life goals.
That's the bottom line.
We've reviewed hundreds of financial statements in our work within the background screening industry. We have seen the good, the bad, the ugly, the very ugly and the irreconcilable. Detailed P&L Statements are a necessity in well-run businesses. They are also the common thread we see in the most successful CRAs. We know.
If you would like more information on how to add detail to your P&L statements or on other CRA related financial management, call Evan Zatt at 303-875-1718 or 561-712-1277 ext. 3.
Are you looking for more background screening financial information? Read about gaining competitive advantage through pricing HERE.
About the author: Evan Zatt leads M&A for Berg Consulting Group. With Berg Consulting Group for 11 years, Evan has served as intermediary on dozens of M&A deals representing both buyers and sellers. Evan is a graduate of Syracuse University  – Go Orange! When not working, you'll find Evan snowshoeing, golfing and hiking in Colorado.