Better Vendor Program-April 2020 Special
COVID19 Opportunity for CRAs
Turn this lemon into lemonade with our special offer.
The feds are sending $1200 to some households —How long will that last?!  We can put a lot more than that in your pocket with a COVID19 cost-cutting opportunity for your CRA during these debilitating times.
HOW?
Slash your costs at the search level.
Your sales for last week and this week are already down and so are your profits.  It's going to get worse before it gets better.  You can help yourself by cutting your cost of all data elements you are buying. Cut costs by using our 15-year, results-producing Better Vendor Program.  You get not only the cost savings but you get proven researchers with the same quality and optimum TAT that you need.
Many CRAs have been on this program saving millions of dollars.  But many who are not tell us: "sounds good but maybe later".  Well maybe NOW is that LATER!
The Offer
Let's get real.  Your CRA is surely in financial crisis.  We have been of assistance to CRAs for the past 20 years including the dramatic downturn of 2008-2009. These are horrible times so we want to do all we can to help out everyone in our industry by offering a one-time COVID19 Opportunity for CRAs. This program is a pay for performance plan. Today we are offering a new payment structure where the first year of savings we give you is now 100% yours.  No split with us until year two.  If we cannot get you a better vendor at a lower cost, it costs you nothing!
 Example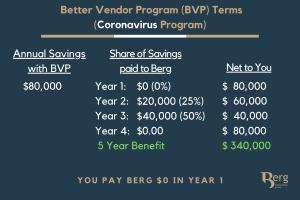 With the savings we can identify, you can help keep your cash flow healthy, afford to keep your people on the payroll and keep groceries on your table all while prepping your company for a stronger financial future.
Eligibility             
Must be a new client for this program or any previous client who has completed the program
Must sign up by April 30
Must provide your data by May 7
Must do a minimum quantity of 3000 crims per month (county or NatCrim)
For any savings beyond $250,000 per year, our year 2 share of that savings goes to charity
Are you buying criminal (county, state, federal, NatCrim, wants and warrants), Civil, SSN, SOR, MVRs, Watch Lists, Employment and Ed Verifications and Reference Checks? The Better Vendor Program can help.
We have already added staff (Denise Goren) to be able to handle the influx of needs on the Better Vendor Program. Don't hesitate, call us to get started and take control of your costs.
Call us now at the following numbers:
Bruce (561) 827-2694
Evan (303) 875-1718
Abbe (561) 951-9211
More Background on The Better Vendor Program:
Tap Into The Program's Buying Power
You know that criminal research is one of the largest expenses of a background research business. To help background screening businesses take control over this expense we have spent the past 15 years researching and developing THE premiere network of criminal records sources in the industry. We use the cumulative power of  all of our clients' volume to negotiate with the best service provider and guarantee the best rates. Altogether, the power of the Better Vendor program is in the numbers. The massive volume from our referred clients ensures our vendors produce superior results. You have no middleman. You you will work directly with the provider. Our better vendors provide accurate reports with the fastest turnaround time and unmatched savings exclusively to our clients. Historically our Better Vendor Program clients have saved literally several million dollars!
Free & Fast Initial Analysis
Now you don't have to guess, hope, or even imagine how much the Better Vendor program can save you… we'll PROVE it! A FREE formal analysis is performed by our senior consultant allowing you to see real proof of your company's savings before you apply for the program.
After we've completed the analysis of YOUR volume we'll provide you with a SAVINGS REPORT. It takes our senior consultant a full day to complete this analysis and is free of charge to you! There are NO upfront, monthly, or usage fees with the Better Vendor program, just real dollars put back in your pocket, forever!
Don't say you'll get to it later. Review your costs today.
Click here for Better Vendor Program FAQ's
Read here for additional explanation of background screening costs.
Visit our updated US Court Closings page.
Customer testimonials: